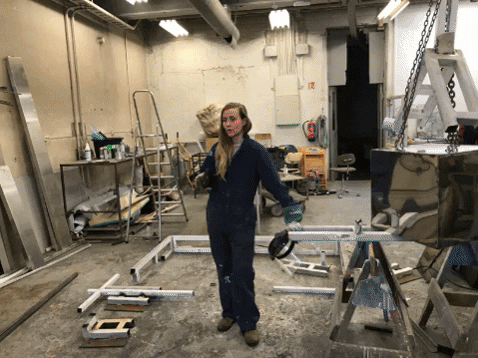 Katrín Inga Jónsdóttir Hjördísardóttir creates through all the media of modern society. If the current media does not suit the work, then she creates her own. Systemic phenomena often play the main role in her visual philosophy. A change in the mindset of the values of love and sexuality rises, presented on a new basis where critical thinking belongs to everyday life. The purpose of art and love is in eliminating the endless cycle of political and cultural conflicts in the world.
Katrín Inga Jónsdóttir Hjördísardóttir's work explores love, sexuality, and therapeutic self-expression, focusing in particular on their aesthetic capacity to question patriarchal hierarchies framing both the art world and global society at large. Jónsdóttir Hjördísardóttir´s work draws on critical feminist aesthetics, continental philosophy, subversive art-historical movements like fluxus, and land-based Icelandic art. She has exhibited numerous solo shows in Iceland, Europe, and the United States, establishing her as a celebrated multimedia artist at the crux of Iceland's contemporary post-fluxus feminist avant-garde. (Dr. Erum Naqvi, Art Theorist 2021)
Katrín Inga has built up a remarkable resume of exhibitions and performance projects, working in several countries. While often focusing on women and gender issues, she presents a wider critical discussion that involves art history and theory. Her exhibitions and performances are at once serious and wryly humorous. She has a way of presenting complicated ideas in such a way people leave her shows with their head full of thoughts but a smile on their face. (Jón Proppé, Art Historian 2018)
Katrín Inga has presented solo projects and performances, most notably at Living Art Museum, Reykjavik (2013) and her work and performances have been presented in group exhibitions at platforms including High Line Art, New York, USA (2017); Kunstmuseum Liechtenstein, Vadaus, Licthenstein, (2015); XVII Biennial of Young Artists, MEDITERRANEA17, Milan, Italy (2015). She is the recipient of awards including a Fulbright Scholarship (2012); the Dungal Art Fund award (2012); the Gudmunda Andresdottir Scholarship (2013); the Icelandic Art Salary from the government of Iceland, Iceland (2015/2017); and the Svavar Guðnasson & Ástu Eirkiskdóttir foundation art price for the promotion of young Icelandic artists (2017). Katrín Inga graduated with a MFA from the School of Visual Arts, New York (2014); a BA degree in Art History and Art Theory from the University of Iceland (2012); and a BA in Fine Art from the Iceland Academy of the Arts (2008). Katrín Inga is a board member of the Reykjavik Association of Sculptors (2018-) and she was featured in the "Isle of Art"(2019), a book about Icelandic Art. She has collaborated with various artists most recently with the performance group "It's The Media Not You!" in various art projects (2015 – ). Katrin Inga was invited to have performance lectures in Icelandic Academy of The Arts (2018) and in School of Visual Arts (2017/2019).


Education
2014 | School Of Visual Arts | New York | M.F.A. Fine Art
2012 | University Of Iceland | B.A. Art Theory and Art History
2008 | Icelandic University Of The Art | B.A. Fine Art
Upcoming
2022 | Solo show at Gallery Phenomenon | Reykjavik
2023 | Solo show at Gallery Pysja | Reykjavik
2023 | The Sculpture Garden | Reykjavik
2023 | Roam Gallery | Berlin
2023 | Gallery Phenomenon | Reykjavik
Solo Exhibitions
2022 | Listval Hólmaslóð | Reykjavik
2022 | Donnerstag Gallery | Berlin

2021 | Residence of the Icelandic Embassy | Berlin

2020 | Gallery Gudmundstottir | Berlin
2020 | Gallery Hillbilly | Stundin | Icelandic Newspaper

2019 | Gallery Midpunkt | Kópavogur | Iceland
2019 | The Sculpture Garden | Reykjavik

2018 | Gamma Gallery | Reykjavik
2018 | The Sculpture Garden | Reykjavik

2017 | Wind And Weather Window Gallery | Reykjavik
2017 | Sequences Art festival | Reykjavik

2016 | Ekkisens Gallery | Reykjavik

2015 | Eastern Edge Gallery | Newfoundland Canada

2014 | Gallery SIM | The Association of Icelandic Visual Arts | Reykjavik

2013 | The Living Art Museum | Reykjavik

2012 | Gallery Dwarf | Reykjavik
2012 | Gallery SIM | The Association of Icelandic Visual Arts | Reykjavik
2012 | Artíma Gallery | Reykjavik
2012 | Gallery Toilet | Reykjavik

2011 | Gallery Crymo | Reykjavik
Group Exhibitions & Performance Events
2022 | Gallery Phenomenon | Reykjavik
2022 | Listval | Harpa, Reykjavik
2022 | Hafnarborg | Hafnarfjörðuri, Iceland
2022 | Reykjavik Art Museum | Reykjavik

2021 | Asmundarsalur | Reykjavik
2021 | Direkte Auktion | Berlin
2021 | Reykjavik Art Museum | Iceland
2021 | Living Art Museum | Reykjavik

2020 | Direkte Auktion | Berlin
2020 | Living Art Museum | Reykjavik
2020 | Alliance House France | Reykjavik Iceland
2020 | The Sculpture Association Garden | Reykjavik
2020 | National Gallery | Raflost: Festival of Electronic Arts | Iceland

2019 | Asmundarsalur | Reykjavik
2019 | Tokyo National University of Art | Japan
2019 | Plan B Art Festival in Borgarnes | Iceland
2019 | Outside Exhibition | The Reykjavik Sculpture Association | Reykjavik
2019 | Ild ink Corporation | Edinburgh
2019 | Alþýðuhúsið á Siglufirði | Iceland
2019 | Retirement Home | Reykjavik
2019 | Reykjavik City Hall | Iceland

2018 | Intragalactic Art | Sweden
2018 | Beyond Human Impulses: Performance Festival | Athens
2018 | Asmundarsalur | Reykjavik

2017 | The High Line Art | New York
2017 | Ekkisens gallery | Reykjavik
2017 | The Nordic House | Reykjavik
2017 | ASFA BBQ; Performance Festival | Athens
2017 | Window Gallery | Paris
2017 | Studio 10 Gallery | New York
2017 | Mengi: Beyond human impulses | Reykjavik
2017 | Hosek Contemporary | Berlin

2016 | Ekkisens gallery | Reykjavik
2016 | National Gallery | Iceland
2016 | Mengi: Beyond human impulses | Reykjavik
2016 | National TV Iceland: Kling & Bang Gallery | Reykjavik
2016 | Boston Bar: Performance event | Reykjavik
2016 | The Reykjavik Sculpture Association | Reykjavik
2016 | Reykjavik City Theater | Iceland

2015 | XVII Biennial of Young Artists | MEDITERRANEA17 | Milan
2015 | Site Show Gallery | New York
2015 | Kunstmuseum Liechtenstein | Liechtenstein
2015 | Ekkisens gallery | Reykjavik
2015 | The night of the lost work: Private Home Performance Event | Reykjavik
2015 | Danceatelier | Reykjavik

2014 | ONE SITE ICELAND | Vienna
2014 | 184 Project Space | New York
2014 | SVA Chelsea gallery | New York
2014 | Video Festival: Time Based | New York

2013 | Select art fair | Miami Basel
2013 | Pleasant View Farms Proudly Presents Art Fest | New York
2013 | National Gallery | Iceland
2013 | MALMÖ KONSTHALL | Sweden
2013 | 700is video art festival | Iceland

2012 | Gallery 002 | Iceland
2012 | Artíma Gallery | Reykjavik

2011 | The Old Ambulance Depot | Edinburgh
2011 | Dorothea Schlueter galerie | Hamburg
2011 | M21 evolution: Langenlois | Austria
2011 | Kling & Bang Gallery | Reykjavik
2011 | Festiwal Kulturalne Oblicza Islandii | Warszawa | Poland
2011 | Festisvall | Reykjavík | Iceland
2011 | Living Art Museum | Reykjavík
2011 | Gallery Crymo | Reykjavík
2011 | Living Art Museum | Reykjavik
2011 | Endemi: Performance at Bookshop | Reykjavik

2010 | The National Gallery of Iceland | Reykjavík
2010 | Hugmyndahúsið | Reykjavik
2010 | Gallery Dynjandi | Iceland
2010 | Living Art Museum | Reykjavík

2009 | X Initiative Gallery | New York
2009 | Kling & Bang Gallery | Reykjavík
2009 | Bakkus Bar: Sultan Eldmóður Performance Event | Reykjavík
2009 | Art Studio: Performance Event | Reykjavík
2009 | Audur Capitals: Privat Performnace | Reykjavik
2009 | FRAFL: Privat Performance seria at Homes | Reykjavík

2008 | Suð Suðvestur Gallery | Iceland
2008 | Reykjavik Art Museum | Iceland
2008 | Public Performance seria: Selling Christmas Cards | Reykjavík
2008 | Living Art Museum | Reykjavík
2008 | Reykjavik Art Museum: performance invasion at 10/10/08 at 3.45pm | Reykjavík
2008 | Raflost: Icelandic Festival of Electronic Arts | Reykjavík
Awards
– Svarar Guðnason & Ásta Eiríksdóttir | Art Foundation | Promising Icelandic Artist 2017
– Dungal Art Award | Promising Icelandic Artist 2012
Grants
2022 | Artist Salary Fund | Iceland
2022 | Icelandic Art Center | Iceland
2022 | Visual Art Fund | Iceland
2022 | Icelandic Copyright Foundation | Iceland

2021 | Icelandic Art Center | Iceland
2021 | Visual Art Fund | Iceland
2021 | Icelandic Copyright Foundation | Iceland

2020 | Artist Salary Fund | Iceland
2020 | Icelandic Art Center | Iceland
2020 | Visual Art Fund | Iceland
2020 | Icelandic Copyright Foundation | Iceland

2019 | Muggur | Iceland
2019 | Icelandic Art Center | Iceland

2018 | Muggur | Iceland
2018 | Icelandic Art Center | Iceland

2017 | Artist´ Salary Fund | Iceland
2017 | Icelandic Art Center | Iceland
2017 | Visual Art Fund | Iceland
2017 | Icelandic Copyright Foundation | Iceland
2017 | Muggur | Iceland

2016 | Icelandic Art Center | Iceland

2015 | Artist´ Salary Fund | Iceland
2015 | Icelandic Art Center | Iceland
2015 | Visual Art Fund | Iceland
2015 | Icelandic Copyright Foundation | Iceland

2014 | Icelandic Copyright Foundation | Iceland
2014 | Muggur | Iceland

2013 | Guðmunda Andrésdóttir | Scholarship
2013 | Reykjavik Art Grant | Iceland

2012 | Fulbright | Scholarship
2012 | Icelandic Copyright Foundation | Iceland
2012 | Icelandic Center for Research | Iceland

2011 | Icelandic NA of the YiA programme
2011 | Icelandic Center for Research | Iceland
Artist Residencies
2018 | Intragalactic Art | Sweden

2017 | InHere Fish Factory | Iceland

2016 | Cité Internationale des Arts | Paris

2015 | Natural Oasis | Gibraltar

2014 | Natural Oasis | San Marino

2008 | Díónýsía | Iceland.

2007 | DAMA | Lapin Yliopisto | Lapland
2007 | Díónýsía | Iceland
2007 | Aurora Borealis | Lapin Yliopisto | Lapland
Publications
Isle of Art | Artizine | Ritið/2015 | Listvísir | Archive On the run | Blátt blað | III Ritið | Endemi | Trust us! We are artists | The Wheel | Community of Sentient Beings
Art projects
Beyond human impulses | Co-Founder performance platform | 2017-2019
Endemi art publication | Editor endemi.is | 2011-2015
About Icelandic Art | Director and co-Founder | 2011-2013
The Night of the Lost Artworks | Co-Founder performance platform | 2011
It is the media not you | Co-Founder art collaboration | 2015-2019
Art Teaching & Lectures
The Photography School | Iceland
The Icelandic University Of The Arts | Iceland
The School Of Visual Arts | New York