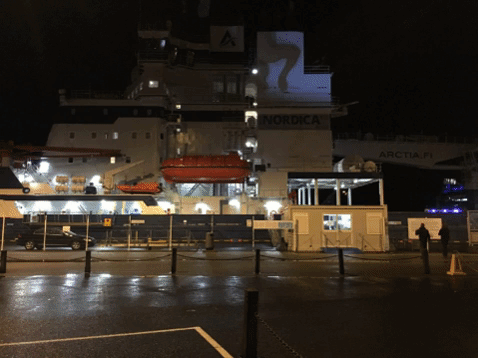 Hug & Pat the Icebraker
2017
Video screening for the Icebreaker – MSV Nordica – Reykjavik
This art project took place during the Arctic Circle Assembly on October the 13th, 14th and 15th that was being held in Reykjavik in 2017. The artwork is itself an original collaboration of Arctia Oy with the artist where the location has a major role and a unique form—footage projected on the icebreaker's walls. The video, given the size of the boat, could be seen from afar at Reykjavik's Bay by Reykjavik Art Museum, each evening from 7 pm until 9 pm.
Visual artist Katrin I. Jónsdottir Hjördísardóttir gathered inspiration from the icebreaker to create, design and perform the motion picture. The recording took place inside the Icebreaker and several pieces of equipment found in the surrounding rooms were used to give shape and create the frame of the video. In this work Katrin embodies the concept of vulnerability through nudity using elements and movements that evoke sensitivity, empathy, kindness and sympathy. This traditional portrayal of femininity contrast with the coarseness of the icebreaker's nature, structure, shape and function.