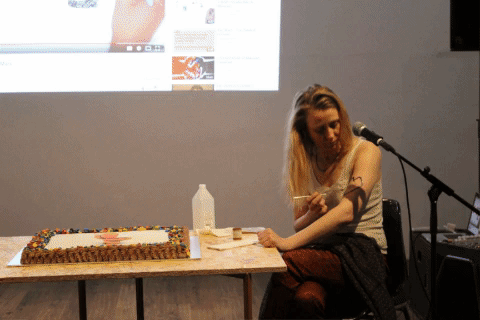 Heart Art
2017
Performance at Mengi / Reykjavik
for Beyond Human Impulses (http://beyondhumanimpulses.portfoliobox.net/)
This performance took place in Mengi under the name of Heart Art. The setting, a mildly dark room with a table, a chair, some tools, projector and a screen creates a mirage of simplicity that rather than hiding a message, evokes humbleness as a statement of anti-materialism. This celebration of the 1st of May, and of all its philosophical and sociological connotations brings the audience to a battle, a tribute to the endless struggle where Katrín I Jónsdóttir Hjördísardóttir embodies the revolutionary soldier that, by nature, never stops fighting for peace and love. The artist utilizes the stick & poke technique to give herself a prison-style tattoo of a heart surrounding the words hjartans list on her left arm. The act of tattooing is performed while the projector shows pre-recorded footage of Katrín's computer screen where she switches between different videos about philosophy, propaganda and ideology manifestos.