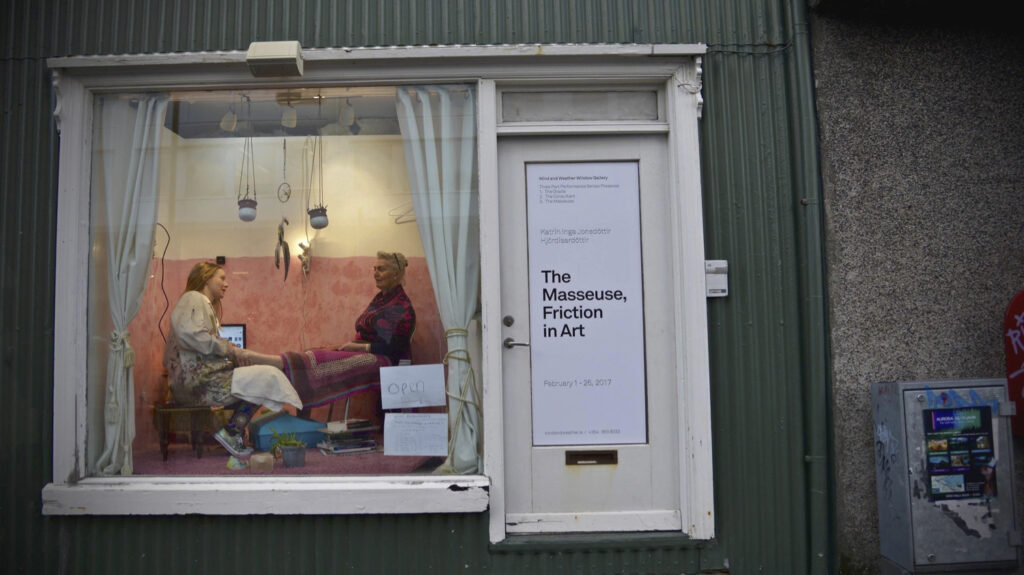 Friction in Art
2017
Performance / live video / installation
Wind and Weather Window Gallery
The Friction in Art is a live performance that took place at the Wind and Weather Window Gallery in February 2017. Opening the 4th Katrín Inga Jónsdóttir Hjördísardóttir presents herself as the Masseuse contributing to the Presence performance series, a three-part artist collaboration exhibited in the form of the Oracle, the Consultant and the Masseuse.
This unusual performance contrasts with the non-commercial nature of Wind and Weather Window Gallery where she enacts the job of a professional foot massage provider. The customer could attend the performance after making an appointment during several dates in February and the performance was also livestreamed. This brings the performance to an interpersonal field where the receiver of the massage can feel as part of the project. The room is a little space decorated with pink fur on the walls and eastern pedicure tradition influences the setting. The customer receives constant stimulation, not only corporally but also from the material provided by Katrín such as art magazines and audiovisual elements. During the performance, the conversational aspect has a strong value and often eclipses the massage at a physical level. In these conversations, she discusses art with the customer, giving out ideas, historical and theoretical approaches and exchanging thoughts with them that shape the conversation into a flow that is made possible by virtue of the relaxation achieved through the massage.